Episode list
#000: Welcome to "Getting CX Right with CTMA"
- Launch episode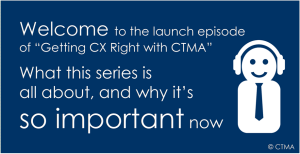 In this launch episode I want to let you know what this podcast series is all about, and why it's so important to you and your organisation now.
We're on a mission: to demystify customer experience and put the power of success in your hands, so you can take control and manage your customers' experiences, before they 'take over the wheel' and manage yours.
In this series, I'm going to tackle some of the big challenges that, like big boulders, often block the path to delivering effective customer experiences, and I'll answer some of the big questions that can stand in the way of progress.
#001: The "Reality-Clarity" Challenge
- Why Bother with CX?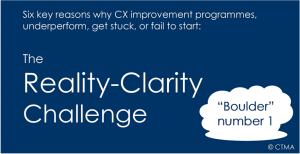 Everyone agrees that it's nice to give customers a good experience, but there's often a lack of clarity quantifying why it's important, and then, justifying the reality of why it should be improved.
This is a big enough challenge for business where there's an intuitive link between satisfying customers, and getting them to come back to buy more, but it can be an even greater challenge in the public sector, where customers seldom have a choice of an alternative supplier. If an organisation can't clearly define a business justification for improving customer experiences, it's programme is very likely to underperform, get stuck or fail to start!
In this episode I look at "The Reality-Clarity Challenge" - possibly one of the most common, least understood, and most important challenges to get right. So let's "dig out this boulder", see what it's all about, and devise a plan to master it.
#002: The Measurement Challenge
- What's My Score?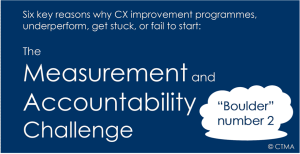 There seems to be something very wrong with the way many businesses, and public services, measure their customers' experience. Their customer experience metrics seem to mask potential failure, mystify effective management, absolve accountability, and do nothing to drive actions to improve.
There's no shortage of metrics used to measure customer experience, but decades of measuring it has left the boardroom, and entire businesses, spending more time debating "what NUMBERS to use" to MEASURE it, than "what ACTIONS to take" to IMPROVE it.
If you're investing in voice-of-the-customer and measurement programmes, and not YET seeing many improvements – you are NOT ALONE. In this episode I discuss a five step path to measurement and voice-of-the-customer maturity, along which many organisations set out, but only a few manage to get past the half way point - and that's when they encounter this big BOULDER, "The Measurement and Accountability Challenge"
#003: The Setting Priorities and Taking Action Challenge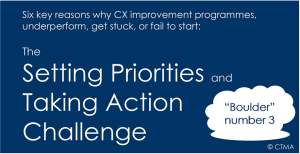 A staggering finding from one of our benchmarking studies of top 200 companies and public sector bodies showed how few organisations effectively use data from customer feedback and surveys to drive improvements and take action. Many seem to have their CX improvement "take action switch" set to a default setting of "INACTION", instead of a setting of "LET'S TAKE ACTION". They're almost stuck in a groove, looking for reasons and excuses for "WHY we CAN'T do anything about it" instead of actively looking for "WHAT CAN we do about it".
If you think you might be stuck in this groove, join me in this episode for a strategy where you can flip your switch and always be ready to TAKE ACTION.
#004: The Enterprise Engagement Challenge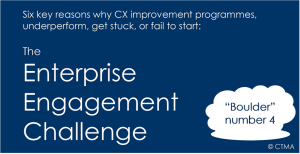 Organisations that don't treat their customer experience programme as an enterprise-wide transformation, are typically hindered by a lack of strategic purpose, limited cooperation, and an absence of measurable benefits.
It's no wonder that so many organisations seem to have a history of multiple attempts to launch projects to improve "customer service", "service quality", "customer satisfaction", and "customer experience", with each ending in eventual frustration and disappointment.
In this episode, I look at three key elements that should be included in a customer experience improvement programme to help make it become an enterprise-wide, self-sustainable and successful transformation that truly embraces customer excellence, and gets everyone involved with a shared sense of purpose, collaboration and accountability.
#005: The People Engagement Challenge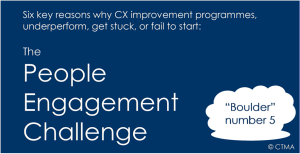 So many customer experience improvement programmes, underperform, get stuck, or fail to start, because they didn't place enough attention on involving everyone in the transformation process.
The ultimate success of a customer experience improvement programme, depends on the successful involvement, development and nurturing of leadership, skills, collaboration and the engagement of all the people who work in an organisation, and its suppliers and business partners.
In this episode, I look at how to get, and keep, everyone "on board" and actively, willingly and effectively participating in driving the CX mission.
#006: The Keeping Improvement Continuous Challenge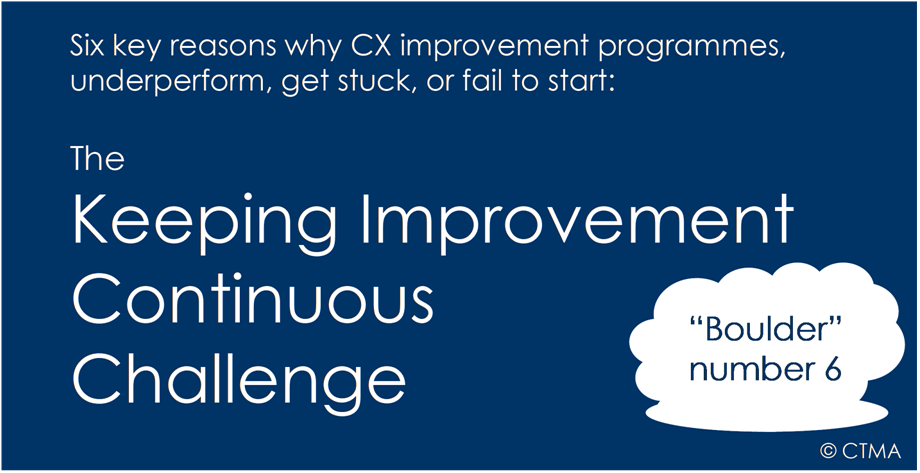 The need to keep up the momentum of continuous improvement, and keep pace with the changing needs, wants and expectations of customers, never ends. The big challenge is how to keep continuous improvement "continuous", and avoid the risk of lapsing into the complacency of the past.
In this episode, I want to look at why customer experience improvement programmes often seem to fizzle out and come to a STOP. I'll be looking at number six, in our series of BIG "BOULDERS" that often block the path to sustainable customer excellence. It's the one I call the "Keeping Improvement Continuous Challenge".
#007: Stop Juggling and Start Creating Value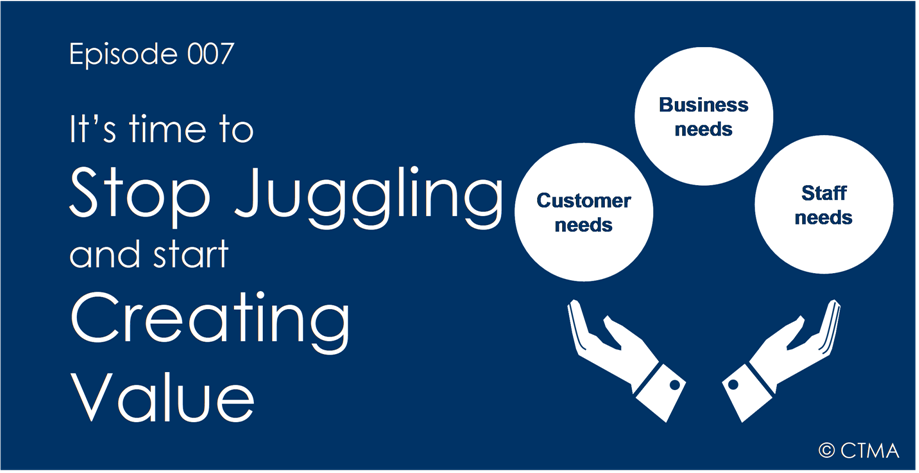 It's taken a global crisis to re-focus businesses and public services on creating genuine value instead of the old way of simply juggling the needs of the business, against the needs of customers and against the needs of staff - a situation, where in the end – NOBODY wins!
In this episode, I want us to look at THE BIG PICTURE of why customer experience has become so important today, and why - "It's time to stop juggling, and start creating value"
#008: Questions your Leadership Team needs to get Answered
- even if they haven't yet asked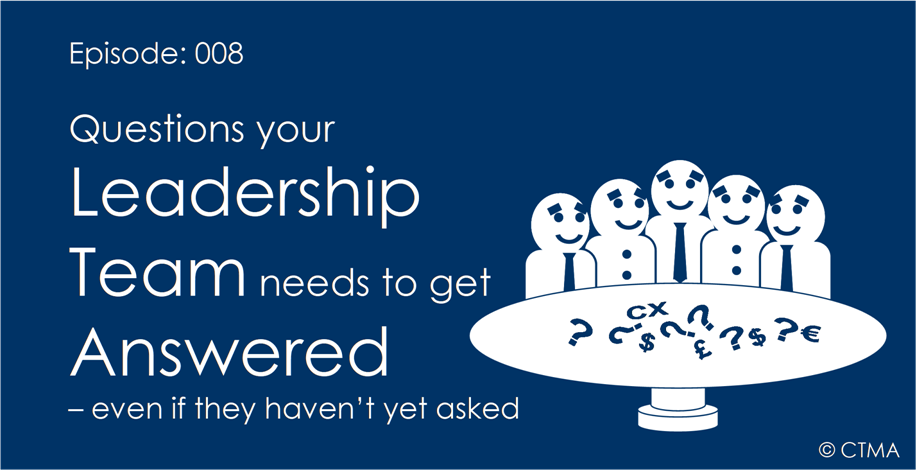 Many big businesses and public services today have adopted an approach to customer feedback and measurement that only produces a proxy performance score that's hard to translate into dollars, and often fails to identify what went well and where things went wrong with customer experience.
In this episode I want to close the measurement gap by offering a set of baseline questions your leadership team needs to get answered – even if they haven't yet asked! And indeed, if you are a member of the leadership team, these are the key customer experience questions you should be asking. The answers to these questions will empower your leadership team to give your customer experience improvement programme the energy and support it deserves.
#009: The Four Alternate Realities of the Corporate-Customer Universe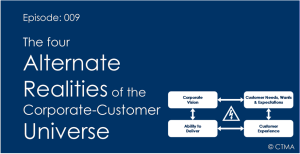 During the global health crisis, customer service functions needed to duck and weave to keep their organisations afloat. In record time, they had to change their operating procedures, adopt new practices and new technologies, and many moving to remote working. There just wasn't time to go through a lengthy business justification and an ROI calculation.
But now, as the world slowly returns to normal, many organisations have moved on to what they see as a new crisis of change. It's one driven by a cascade of issues like increased prices, limited finance and resources, and problems of shipping and supply. But there's a risk, that the customer is now being missed out of the equation and customer experience professionals need to rebuild the rigour of disciplines and frameworks to describe and justify where customer experience investment is needed to support this, and future crises of change.
In this episode I describe one of the diagnostic frameworks we use in our customer experience transformation programmes to provide some insight into the dynamics at play that undermine value, add unnecessary costs, and the steps you need to take to tune your organisation for success.
#010: Getting CX right, when everything seems to be going wrong!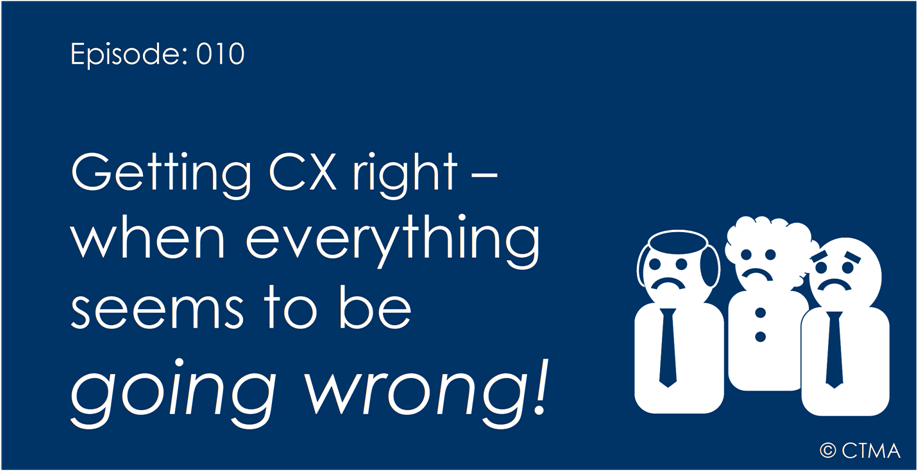 At the time of recording this episode, many businesses and public services are finding it a great challenge to satisfy customers. It has particular relevance while many parts of the world are recovering from a global health crisis, and suffering from disrupted international supply chains, travel disorder, economic instability, domestic and geo-political tensions.
In this episode I'll be looking at a selection of some of the guiding principles we use in our customer experience transformation programmes to help our clients to be in a much better position to respond to their customers when problems do occur. These guiding principles can be used to underpin your business-as-usual strategy, and also relied upon to support how your organisation responds to unplanned events or a crisis. They can help you to reduce costs, reduce reputational risk, and recover faster from unplanned events or a crisis, whilst improving productivity, improving customer satisfaction and loyalty, and improving staff capability and wellbeing.
#011: How to Lose Customers -
without really trying!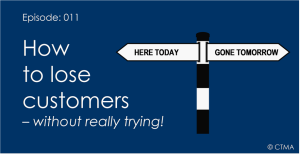 You can't help noticing today that some organisations seem to have "stopped bothering about customers". Perhaps it's an indication that some in our "throw-away society" now consider that an existing customer is no more than a passing encounter that can be simply cast aside, and easily replaced with a new one.
In this episode I'm going to tap into our customer experience research again, and give away the secret of how you can make your organisation incredibly successful at what it does, by getting CX right. It's how a business can out-perform its competition, and how a public service can build incredible public support. But first I want to take a look at what NOT TO DO. I'm going to look at three key things our research confirms about: "How to lose customers – without really trying!".
---
Let's have a chat
If you're working on a customer experience improvement programme, I'd love to hear about your work and about any challenges you may be facing.
Please click here to schedule a Zoom Meeting: ‍ Schedule a Zoom Meeting ‍
---
About your host - Paul Linnell

Paul Linnell is a customer experience and service quality improvement champion, working internationally with senior managers and their teams to help them achieve business success, reduce risk and build customer loyalty and advocacy by taking actions to improve customer experiences. Paul specialises in the design and deployment of customer experience measurement, service quality improvement, complaints handling and preventive analysis programmes. Industries he has worked with include, Automotive, Consumer electronics, Consumer goods, Electricity & Gas retail, Financial services, Information technology, Local Government and Public Sector, Media / Publishing, Passenger travel (Rail, Air and Sea), Pharmaceuticals and Telecommunication. Paul has worked with clients and presented on these subject at conferences and corporate events in the UK, Europe, North America, the Middle East, Australia and New Zealand. Originally from the UK and now based in New Zealand, he continues to serve clients globally.
Follow @PaulLinnell