Our online scrap book
Interviews, citations and contributions...
Strategic Communications (November 2014)

It's probably no surprise that poor customer service can have an enormous amount of negative impact on your business. But what about poor service to employees? Does the internal satisfaction of your employees weigh on that metric?
---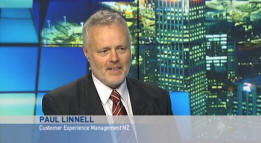 TVNZ ONE News (December 2011)
Firms that want to survive the economic downturn no longer have the luxury of ignoring dissatisfied customers, according to a newly-formed association. Customer Experience Management New Zealand (cemNZ) is a collaboration between Chris Bell and Paul Linnell, strong advocates for improved customer care as a driver for business success.
---

New Zealand Business (August 2011)
The "TellSimon" customer feedback channel - helping businesses get more feedback from customers.
---

National Business Review (April 2009)
CTMA's customer experience study of Building Consent & Inspection Services
---

Customer Excellence Magazine (April/June 2006)
---

NZ Herald (11-Mar-2004)
Identifying and fixing problems - the secret to retaining existing customers
---

NZ Herald (5-Jul-2000)
"Customer Service 2000" Ernst & Young Benchmarking Study
(Designed & managed by Paul Linnell)
---
Our social echo
(thank you)
Twitter
Thank you for your support

CTMA's Paul Linnell speaking at
Conferenz: "Customer 3.1" - May 2016, Auckland, NZ
Thank you Leonie :-)
Loving the last session, Paul Linnell. The bottom line of bad CE. Fix cust probs fast & save millions! #NZCustomer pic.twitter.com/HhqCmuTJGp

— Leonie Valentine (@techvalentine) May 23, 2016
---
Other services to help your business succeed with its customers:

LearningPlanet helps improve your productivity and confidence through sales, service and leadership skills in bite size videos and short training modules. The one-minute videos help you learn a specific technique and the 30 minute training modules help you learn a complete topic. The library is updated monthly with new content and allows training at your fingertips for a 'just in time' training solution and for use as a pinpoint coaching tool.
---

HerBusiness (formerly Australian Businesswomen's Network) is a membership community that provides education, training, resources, mentoring and support for women who want to: •Grow their businesses •Connect with other business owners and expand their network •Learn from world-leading role models and experts •Be inspired and encouraged through every stage of their growth, from the startup phase to established business and beyond •Create the business and life they love.
When you become a HerBusiness Premium Member you tap into a support network that helps you feel connected, informed and ready to thrive in your business. You're no longer alone. Plus you get valuable trainings, practical advice and access to mentors and experts through a mix of online and live events.
Personal comment:
"Suzi Dafnis has packed so much value into HerBusiness you can't fail to be inspired. My personal favorites are her webinar interview series - 'Booked for Lunch', and the excellent podcast series she co-hosts with Michelle Falzon - 'Content Sells'."
Source: Paul Linnell - CTMAworld.com
---
Professional groups and associations:

customer experience management New Zealand is a real-world and on-line community that brings together customer service professionals and business leaders and gives them quick and easy access to the information and tools necessary to turn customers into loyal raving fans.
---
CCiNZ is an association for the Contact Centre Industry. Its objective is to be a supportive independent body and meet the needs of its members. CCiNZ promotes professionalism to advance the positive progress of the industry through events, support and education providing the platform for members to meet, engage and share ideas and experiences.
---