Case studies and working papers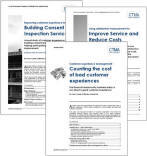 In addition to our client-specific services we also conduct benchmarking, best-practice and industry-wide customer experience baseline studies to help public and private sector organisations develop their customer experience strategies. The following case studies and working papers are available for further reading upon request.
Please click on the "Request a Copy" button for the document you are looking for and we'll happily send you a copy (usually within 24 hours).