In response to this challenge, in addition to our in-person services, we are now delivering our leadership programme, workshops and one-on-one executive planning and coaching sessions online - directly to you and your team - in your own meeting room, at your own desk or home office, in the form of live, group, or personalised online seminars, workshops, and training and coaching programmes. And, you can even bring our podcast with you on your walk, jog or commute.
---
Podcast series: "Getting CX Right with CTMA"
Hosted by Paul Linnell, this podcast series tackles some of the big challenges that often block the path to delivering effective customer experiences, and helps you to answer some of the big questions standing in the way of progress.
"We're on a mission, to demystify customer experience and put the power of success in your hands, so you can take control and manage your customers' experiences, before they 'take-over the wheel' and manage yours." Paul Linnell
Check-out the launch episode right here and subscribe to the series on your favourite podcast platform:
---
Live interactive online workshops
Our leadership workshops and seminars have provided a valuable "jumpstart" or "supercharge" for senior managers and their teams for more than a decade. Now, we're delighted to also bring these topics directly to you and your team in the form of live online events.
Our topics draw from more than 30 years experience working with major organisations around the world in multiple industries to help them measure, manage and improve customer experience. In our events we share a series of tools, tips, techniques, frameworks and guides to help you turn your customer experience vision into your customers' experience reality.
For example:
Getting CX right when everything seems to be going wrong!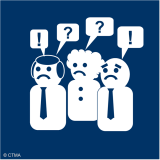 This workshop has particular relevance at this time - with many parts of the world still recovering from the global health crisis, suffering from disrupted international supply chains, travel delays, economic instability, domestic and geo-political tensions. Many businesses and public services are finding it a huge challenge to satisfy customers as they continue to be exposed to regular unplanned and disruptive incidents.
It often takes only a small unplanned incident to trigger a cascade of issues that undermine even the best-planned business processes and customer journeys. When it does, it can be a challenging and expensive task to get things back on track. Customers can get stressed, dissatisfied or angry, and staff can become overwhelmed.
Even a simple incident can seriously undermine productivity, customer satisfaction, staff wellbeing and desired customer outcomes.
When everything seems to be going wrong there's rarely enough time to re-think everything and invent new policies. Instead, what's needed is a set of customer-driven guiding principles that can form the basis of an overall customer response strategy and be called-upon individually to support staff and operational recovery during a crisis or unplanned incident.

(Typical duration: Half-day)
---
CTMA's game-changing
22-week online training and coaching transformation programme
Adopting a customer-driven framework for
continuous improvement, innovation and value creation
We've learned that the difference between success and failure in customer experience, is that lasting success requires a deliberate and serious commitment, a robust enterprise-wide framework and a realistic plan.
So, we've developed a deliberate and seriously game-changing 22-week training and coaching programme to help organisations build a successful customer experience improvement programme.
It draws on our more than 30 years experience working with major organisations in the UK, Europe, the United States, the Middle East and Australasia. During the programme we share the challenges, pitfalls, solutions, joys and delights that we've experienced along the way.
This high-engagement 22-week programme is designed for individuals or teams leading customer experience transformations within their organisation.
It consists of:
11 online seminars
11 team assignments
11 one-to-one coaching sessions with each participating organisation, and
11 Q&A review sessions
The programme is available in two formats:
Group format

, with

individuals or teams

participating from a

(small) number of different organisations

at the same time

One-on-one format

, delivered exclusively to an

individual or team

at a

single organisation

To ensure we can maintain an interactive and productive relationship with each group we are only able to offer the programme a limited number of times a year in each format.

For more information and to apply to enroll on the programme, please click here:
---
Ongoing support, and team and executive coaching
Even the best customer experience improvement programmes can under-perform, suffer distraction, and lose momentum.
To help organisations maintain programme freshness and keep pace with the changing needs wants and expectations of customers, CTMA can provide ongoing support with periodic visits, attend steering group meetings, act as an external programme champion, conduct customer service health-checks, and provide team and executive coaching and mentoring.

To explore these options, please get in touch so we can schedule a call or a Zoom Meeting to discuss your current challenges and consider ways we can best help.
---