Ways we help to turn a customer experience vision into a customer experience reality: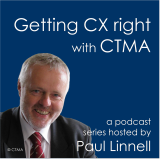 Organisations hire us because we provide insights about their performance - from their customers' perspective, and because we help them turn those insights into management actions to improve operational performance, increase customer retention and improve their reputation.
Our training and consulting services help organisations develop their customer experience vision and establish a customer-driven framework for continuous improvement. Our measurement services help to drive service quality improvement and customer experience management programmes by turning the voice of the customer into management actions.