Many organisations seem to suffer from this same frustration. They say they get a regular score from their measurement programmes, but they're still left wondering: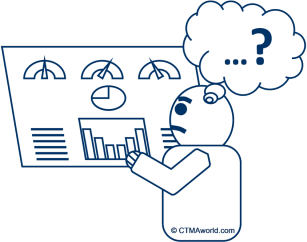 How the score

really

relates to

business outcomes

How to measure

the impact

it has on

the organisation's success

How to identify

what actions

to take

to improve it

Who

should be responsible for

taking those actions

And, how to measure

the effectiveness

of the

actions they take
If you're investing in voice-of-the-customer and measurement programmes, and not yet seeing many improvements - you are not alone.
Many organisations only focus on the net result of a score, and fail to identify or take specific actions to improve customer and staff experiences. Hence, they fail to benefit from the huge opportunity to use customer feedback as a source for strategic management insights to improve their products, to improve their services, and to improve their businesses. So where does it all go wrong?
Let's take a look at some indicators that suggest an organisation may be suffering from this challenge, and consider some of the risks that arise if it does.
Symptoms:
Organisations that suffer from this challenge often have:

Difficulty quantifying the risk of poor service and justifying investments to improve it
Poorly defined measurement objectives
An absence of an actionable measurement methodology
More discussions about which numbers to use to measure it than what actions to take to improve it
A fascination with a contrived index or score, graphical trends and executive dashboards
A tendency to apply ad-hoc remedies driven more by reactions to un-calibrated anecdotal incidents, than by an analytical approach that would set priorities that will get the best return on effort
Little, if any, informed executive team engagement in the process of continuous improvement
In addition, these organisations tend to have a lack of codified complaints data, complaints reporting, preventive analysis and remedial action planning.
Impact and risks:

The wrong metrics often drive the wrong behaviours, and the wrong behaviours often lead to the wrong outcomes, for customers, for staff and for the organisation.
Without metrics that can express customer experience in financial terms, or link it to the organisation's strategic outcome objectives:
Customer experience improvement initiatives will typically

lose traction with the leadership team

Valuable improvement opportunities may go

un-actioned, under-resourced and under-funded
Without metrics that identify specifically who needs to do what and where to improve customer experience:
Cost-effective actions for improvement can remain elusive
Investment in "pet projects" can receive unjustified priority
Accountability for improvement cannot be fairly assigned
Any corporate vision for great customer experiences remains more of an ambition than a reality. Everyone may agree it's important, but many have difficulty quantifying why, or discovering how to achieve it.
Conquering "The Measurement and Accountability challenge":

From reviewing voice-of-the-customer, and satisfaction measurement programmes, at numerous organisations in many industries around the world we've found only a few where their measurement strategy can quickly identify and prioritise what action needs to be done, where it needs to be done, and by whom, to improve customer experience, and quantify the cost of not doing it. To achieve these goals and to get measurable benefit for the organisation from continuous improvement, innovation and value creation, they focus on three key practices:
1, Use metrics that matter to the organisation's success:
Give customer experience strategic relevance to the leadership team by adopting customer experience metrics that matter to your organisation's success, not just a contrived "index" or "score". Express the impact of customer satisfaction in financial terms, or by clearly defining its impact on the organisation's strategic outcome objectives. This makes it clear to everyone why they should bother, and why a good customer experience drives their success, and it quantifies the cost of bad customer experiences. Executive management desperately need, and deserve, this clarity.
2. Adopt actionable diagnostic measurement:
Adopt an actionable approach to measuring customer experience. Begin with a customer experience baseline that reports performance in terms of the metrics that matter and identifies specific sources of customer dissatisfaction and problems they experience. This sets priorities for improvement and identifies the actions that need to be taken to improve it. Then move to actionable ongoing measurement to monitor progress and provide "forensic" diagnostics that drive, prioritise and allocate actions for continuous improvement, innovation and value creation. Ongoing measurement programmes report at the level at which remedial action needs to be taken, reporting performance of individual processes, service delivery points and members of staff.
3. Mandate accountability and collaboration:
Driven by "metrics that matter" and "actionable diagnostics", these organisations create an enterprise-wide mandate for improvement by making everyone accountable for what customers experience in their dealings with the organisation. They encourage collaboration between individuals and departments to actively seek out, and fix the problems that customers experience, making it clear who needs to take action to improve their success. Just as they make everyone and every part of their organisations accountable for managing wasted costs, safety, energy and other resources – they hold everyone and every part of the organisation accountable for their influence on what customers experience.
The benefits:
Here's what you get out of it when you master "The Measurement and Accountability challenge"
By expressing customer satisfaction in financial terms, and linking its influence directly to the organisation's strategic outcome objectives,

"customer experience" becomes a serious and regular topic in the boardroom

and attracts

valuable and informed support from the executive team

.
By adopting a robust and actionable approach to measuring customer experience, you get a reliable supply of customer-driven insights, to

identify and prioritise

opportunities for improvement

, and continuously

energize

actions for improvement

.
By assigning accountability for performance, and for taking actions to improve customer experience across the enterprise, you

get everyone involved

, and it builds

an incredible bond between leadership, managers and staff

- all on a common mission, to make the organisation, its customers, and its staff more successful.
Using this approach to actionable measurement and accountability, organisations we've worked with over the years have achieved significant and measurable gains, from what they've learned from their customers.
Now, more than ever, organisations must build an adaptive customer-driven enterprise that can remove barriers to business, seek out and fix the problems that customers and staff experience, excel at service delivery, and outperform their competition. That's why so much of the work we do with clients is spent helping them to conquer "The Measurement and Accountability challenge".
© CTMA New Zealand Ltd. (Source: "Six key reasons why CX improvement programmes, underperform, get stuck, or fail to start")
Where to from here?
Let's talk
If you're working on "The Measurement and Accountability challenge" I'd love to hear from you. Please get in touch and we'll schedule a call (or Zoom Meeting) to discuss your project and discover ways we can help you make your investment in the voice of the customer a huge success.

---

About the author: Paul Linnell

Paul Linnell is a customer experience and service quality improvement champion, working internationally with senior managers and their teams to help them achieve business success, reduce risk and build customer loyalty and advocacy by taking actions to improve customer experiences. Paul specialises in the design and deployment of customer experience measurement, service quality improvement, complaints handling and preventive analysis programmes. Industries he has worked with include, Automotive, Consumer electronics, Consumer goods, Electricity & Gas retail, Financial services, Information technology, Local Government and Public Sector, Media / Publishing, Passenger travel (Rail, Air and Sea), Pharmaceuticals and Telecommunication. Paul has worked with clients and presented on these subject at conferences and corporate events in the UK, Europe, North America, the Middle East, Australia and New Zealand. Originally from the UK and now based in New Zealand, he continues to serve clients globally.
Google+