Episode list
#000: Welcome to "Getting CX Right with CTMA"
- Launch episode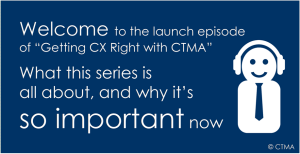 In this launch episode I want to let you know what this podcast series is all about, and why it's so important to you and your organisation now.
We're on a mission: to demystify customer experience and put the power of success in your hands, so you can take control and manage your customers' experiences, before they 'take over the wheel' and manage yours.
In this series, I'm going to tackle some of the big challenges that, like big boulders, often block the path to delivering effective customer experiences, and I'll answer some of the big questions that can stand in the way of progress.
#001: The "Reality-Clarity" Challenge
- Why Bother with CX?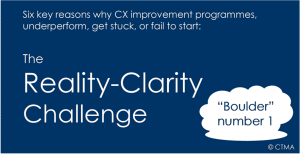 Everyone agrees that it's nice to give customers a good experience, but there's often a lack of clarity quantifying why it's important, and then, justifying the reality of why it should be improved.
This is a big enough challenge for business where there's an intuitive link between satisfying customers, and getting them to come back to buy more, but it can be an even greater challenge in the public sector, where customers seldom have a choice of an alternative supplier. If an organisation can't clearly define a business justification for improving customer experiences, it's programme is very likely to underperform, get stuck or fail to start!
In this episode I look at "The Reality-Clarity Challenge" - possibly one of the most common, least understood, and most important challenges to get right. So let's "dig out this boulder", see what it's all about, and devise a plan to master it.
#002: The Measurement Challenge
- What's My Score?
There seems to be something very wrong with the way many businesses, and public services, measure their customers' experience. Their customer experience metrics seem to mask potential failure, mystify effective management, absolve accountability, and do nothing to drive actions to improve.
There's no shortage of metrics used to measure customer experience, but decades of measuring it has left the boardroom, and entire businesses, spending more time debating "what NUMBERS to use" to MEASURE it, than "what ACTIONS to take" to IMPROVE it.
If you're investing in voice-of-the-customer and measurement programmes, and not YET seeing many improvements – you are NOT ALONE. In this episode I discuss a five step path to measurement and voice-of-the-customer maturity, along which many organisations set out, but only a few manage to get past the half way point - and that's when they encounter this big BOULDER, "The Measurement and Accountability Challenge"
---
Let's have a chat
If you are working on a customer experience improvement programme, I'd love to hear about your work, and if you are facing any challenges we may be able to help. Please get in touch and I'll schedule a Zoom Meeting.

---
About your host - Paul Linnell

Paul Linnell is a customer experience and service quality improvement champion, working internationally with senior managers and their teams to help them achieve business success, reduce risk and build customer loyalty and advocacy by taking actions to improve customer experiences. Paul specialises in the design and deployment of customer experience measurement, service quality improvement, complaints handling and preventive analysis programmes. Industries he has worked with include, Automotive, Consumer electronics, Consumer goods, Electricity & Gas retail, Financial services, Information technology, Local Government and Public Sector, Media / Publishing, Passenger travel (Rail, Air and Sea), Pharmaceuticals and Telecommunication. Paul has worked with clients and presented on these subject at conferences and corporate events in the UK, Europe, North America, the Middle East, Australia and New Zealand. Originally from the UK and now based in New Zealand, he continues to serve clients globally.
Follow @PaulLinnell